New York hip-hop dominated the 90s and early 2000s, but the internet changed the industry and paved the way for Atlanta.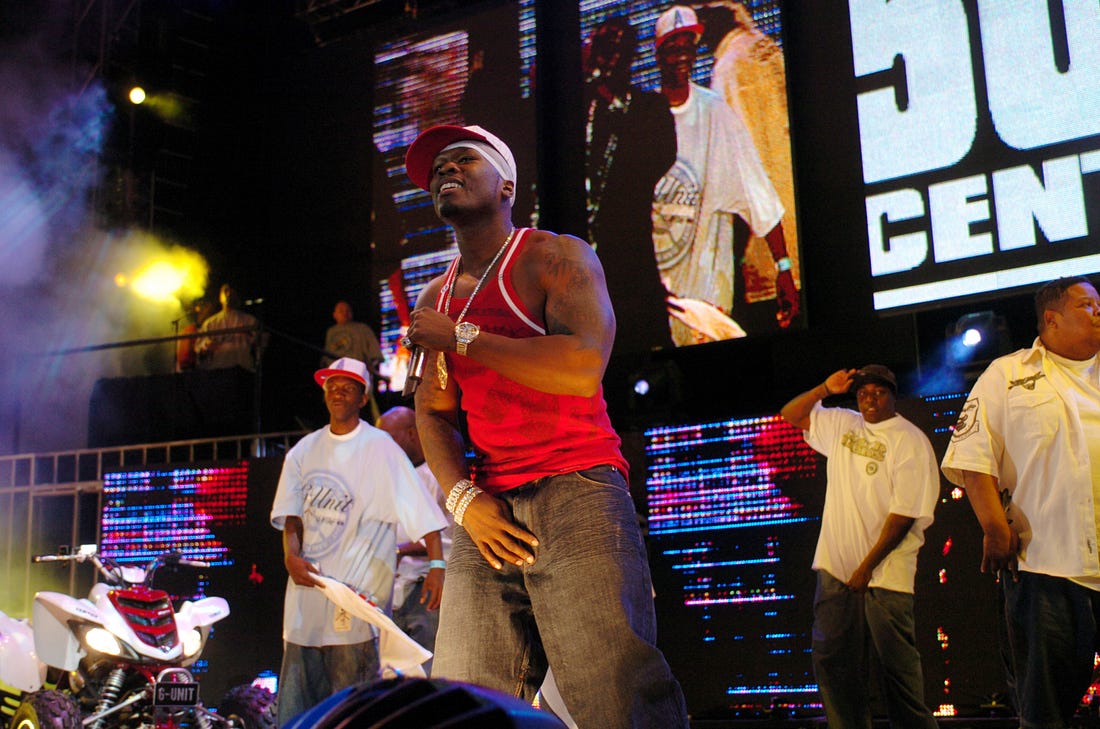 50 on stage at Hot 97's Summer Jam concert in 2004 (Photo by KMazur/WireImage for Hot 97)
Every few months, there's a new profile written on Atlanta and New York's respective positions in hip-hop. For over a decade, The A has been labeled the new Motown, the cultural capital, and other glowing accolades. Meanwhile, New York rap is often criticized for failing to maintain the control it once had. Pundits cite the cultural differences between the two cities as the reason for their respective positions. Brooklyn rapper Maino once said, "The O.G. [New York] rappers didn't pull us in." That might be true, but it doesn't address the underlying reasons for the change.In the 80s and 90s, radio stations, distributors, and artists had tremendous control over the songs we listened to. Rappers from New York and Los Angeles were better positioned than artists in other cities because of their proximity to gatekeepers. The relationships built and influence used (and abused) made it easier to ensure that a particular artist dominated airwaves.
The internet has since democratized artists and fans ability to reach each other directly. As a result, consumers took power away from radio stations and other once-powerful outlets. There was a natural gravitation to shift attention to sub-genres and regions that were once overlooked.
Atlanta was one of several cities whose artists had a timely rise. ATL separated from the pack because it made the most of its opportunity. Atlanta had a little bit of something for everyone, which is the best approach in a fragmented landscape.
New York would have lost its control even if 50 Cent and Ja Rule were best friends.
---
New York rappers had the radio stations in their pocket
Back in the day, New York hip-hop was an agglomeration economy. The close location made it easier for Damon Dash to hound Hot 97's Funkmaster Flex to listen to Jay Z's music. This persistence spawned a powerful relationship between the Reasonable Doubt rapper and the New York radio station. After Hov scored his first big radio play in the mid-90s, the Roc-a-Fella team capitalized on the opportunity.
Here's a segment from Pitchfork on the start of the relationship:
A few weeks later, Jay and [Damon] Dash visited the station to show their appreciation, presenting a bottle of Cristal to Angie Martinez, the [Hot 97] DJ who hosted the segment. … Though it wasn't payola, the whole encounter—the champagne gift, the luxury accommodations—demonstrated that Jay Z and Dash were familiar with the give-and-take expected between artists and radio.
I'm not the payola feds, but an expensive bottle of champagne sends a clear signal. A few years later, the radio station was jokingly called 'Hov 97.' The moniker was used pejoratively by his rivals, but admirably by fans.
A few years later, 50 Cent benefitted from a similar relationship with the station. In an episode of Complex's Everyday Struggle, Joe Budden shared his thoughts on 50's influence:
"When you are the number 1 artist, you have leverage that others aren't afforded. I 100% think that 50 Cent leveraged his power with the program director at Hot 97 and said 'if you start playing A,B,C, and D records you will never get another 50 Cent record.' And guess what? If you never get another 50 Cent record, that shuts down Interscope [Records]…can Hot 97 afford that? No."
But after 50 Cent's run, the industry started to change. Technology changed the game. iTunes, Myspace Music, YouTube, satellite radio, and hip-hop blogs made it easier to bypass the radio stations. The ubiquitous power that sat within the five boroughs came to an end.
Not surprisingly, New York didn't see it that way. The culture wanted a scapegoat. 50 Cent often gets blamed. In 2016 and 2017, the G-Unit frontman and Hot 97's Ebro Darden had a series of heated, entertaining, but pointless debate over who killed New York hip-hop. The longtime radio host thinks that 50's beef with Murder Inc. tore the city apart. But the Queens rapper believes that Ebro, the radio station's program director, chose not to play records from other New York artists.
The finger pointing is useless. Both were influential players, but their control was a product of the old system. New York would have lost its control even if 50 Cent and Ja Rule were best friends. To pin New York's fall solely on one rapper or one program director ignores the industry's change.
A short clip of the ongoing debate between 50 and Ebro (YouTube)
Atlanta thrived on differentiation
When the industry shift began, other regions gained attention. Fans gravitated to the new sound. This was timely for rising stars like T.I., Nelly, and Lil' Wayne.
But Atlanta surpassed St. Louis, New Orleans, and other cities for a few reasons. First, the artists from the city have had a chip on their shoulder ever since Andre 3000 told hip-hop that "the South got something to say" at the '95 Source Awards. The statement was a motivational call for belonging.
Second—and more importantly—most popular Atlanta artists had distinct lanes. In the mid-2000s, Atlanta was home to the So So Def sound, OutKast's eclectic tunes, Jeezy's gritty anthems, Lil' Jon's crunk music, Soulja Boy's ringtone raps, and more. In a highly-fragmented landscape, it's easier to stand out with differentiated products. The breadth of style strengthened the city's perception more than homogeneity would have. Atlanta wouldn't be Atlanta if everyone tried to sound like Three Stacks and Big Boi.
St. Louis and New Orleans did not follow that same path. Nelly softened the ground for hometown rappers Chingy and J-Kwon to come through, but their hit songs could have easily been released by Nelly himself, Murphy Lee, or one of the other St. Lunatics. The same can be said for Louisiana rappers. Boosie Badazz could have fit right in with the earlier New Orleans groups like the Hot Boys or No Limit. That's a compliment to Boosie, but the duplication did not extend the region.
Hip-hop fans often reference Atlanta's collegial brotherhood and sisterhood as a reason for its rise, but the city has had its heavyweight rap beefs too. T.I. and Ludacris exchanged plenty of bars over who was "King of the South." Gucci Mane and Jeezy were at odds for years. In most cases, these beefs draw more attention to a city.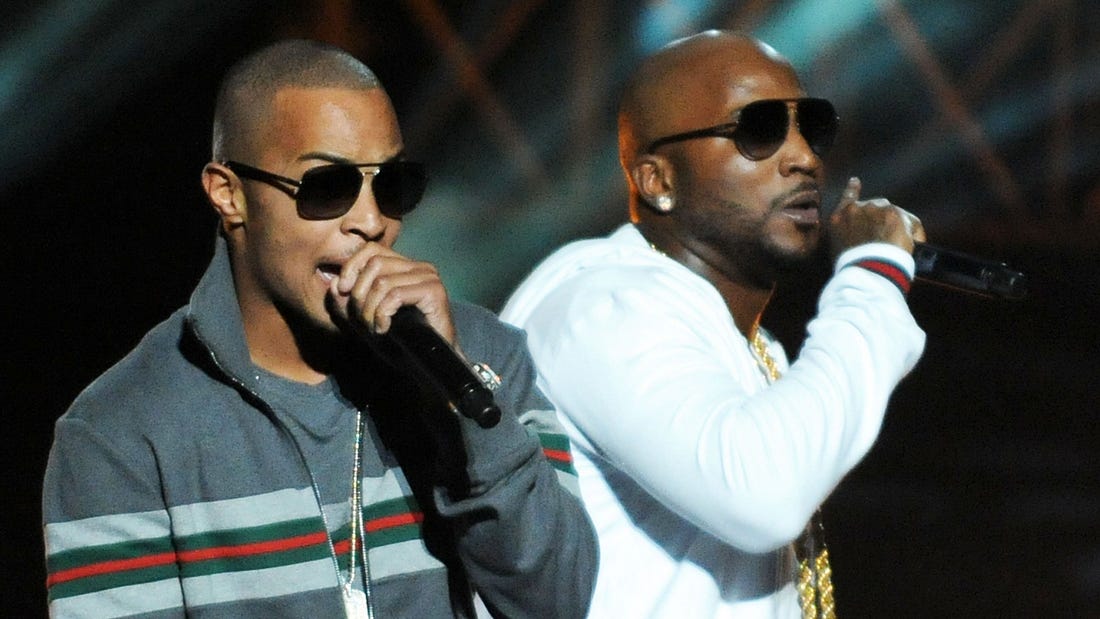 T.I. and Jeezy (Photo by Chris McKay/Getty Images)
What happens next?
The media still speaks highly of Atlanta's run. The city has extended its hip-hop culture to higher-brow television shows like Atlanta. Its strip clubs are ingrained in the rap lexicon. And the region continues to attract young talent, like the artists on the Quality Control Music record label.
But other cities are challenging the notion that Atlanta still has the culture on lock. The five most popular rappers at the moment are Drake, Kendrick Lamar, Cardi B, J. Cole, and Travis Scott. None of them are from Atlanta. Los Angeles' scene has gained momentum too. There's a case to be made for a number of cities.
Although the landscape is fragmented, that could change as technology continues to impact the music industry. Spotify's quest for exclusive audio content may have an impact on hip-hop. Other streaming services are on a mission to do the same. All it takes is a few rappers from the same region to be in the right place at the right time.
Join the music executives, business leaders, and venture capitalists who read Trapital.