Despite the halftime show's massive audience, the Houston rapper may benefit less from the platform than his co-performers will.
Historically, the Super Bowl halftime show was a sign of achievement. The sales boost and exposure increase was granted to those who were worthy. Music's biggest stars took the stage, left an impression, and reaped the rewards. But lately, it's become an underwhelming gig for those who are willing.
Travis Scott has faced backlash ever since he was named to perform at this year's show. The negative response stems from the NFL's polarizing image. Jay Z, Cardi B, and Rihanna each turned down the opportunity to perform —citing Colin Kaepernick's exile as the primary factor.
The Astroworld rapper understands the resentment for his decision. He has convinced the NFL to donate $500,000 to criminal justice reform initiatives in return. Travis still believes the show's exposure will outweigh its social cost.
Unfortunately, the benefits from that exposure have diminished. Despite the 26-year-old's desire to extend his hot streak, his co-performers—Maroon 5 and OutKast's Big Boi— are much better positioned to benefit from the event. And in today's culture, a stage like the Super Bowl halftime show has become too broad for its own good.
No entertainer wants to be tied to systemic problems that are out of their control.
---
The streaming boost will help Travis Scott the least
After Sunday's performance, media outlets will report on the streaming boost that Travis, Maroon 5, and Big Boi get from the show. The stats will be valid, but they are far less impressive than the headlines make them seem.
Last year, Forbes (and many others) reported that Justin Timberlake's music surged 214% on Spotify after the game. They compared his streams from the hour following the Super Bowl to that same hour the week before. It's a small sample size that doesn't equate to much money in today's streaming economy.
Let's do the math. Drake was the most streamed artist on Spotify in 2018 with 8.2 billion streams. Each Spotify stream is worth about $0.007, which equals $57 million for the Toronto rapper. That's a lot in aggregate but equates to just over $6,500 per hour. A 214% increase for one hour of Drake's music would be less than $15,000. That's less money than Drake gave that boy and his mom in the "God's Plan" music video. And since Travis Scott (and Justin Timberlake's) music was streamed far less than Drake's was, that number would be even smaller.
Additionally, the "SexyBack" singer's streaming bump was largely driven by his older songs. According to Forbes, his 2006 song "Until The End of Time" had a 671% boost and 2013's "Suit & Tie" had a 553% boost. Meanwhile, 2016's "Can't Stop The Feeling" jumped just 148% and 2018's "Filthy" bumped up 266%.
This trend will benefit Maroon 5 and Big Boi too. The mainstream songs they will likely perform respectively from Songs About Jane (2002) and Stankonia (2000) will get higher streaming boosts than their recent singles.
But this trend will not help Travis Scott. All his singles are relatively new. "Sicko Mode" is his biggest song, but it's still current. It's already prominently featured on many major playlists. There's less room for it to grow from here.
La Flame's earlier hits like "Antidote" (2015) and "goosebumps" (2016) were popular, but not old enough to spark nostalgia the way that Maroon 5 and Big Boi's older songs will. And since Scott's set will likely be short, we might only get through one or two beat switches in "Sicko Mode" before the mic goes back to Maroon 5's frontman Adam Levine.
Negative network effects
Traditionally, the more people who watch an event, the more valuable it is to perform at. That's why the Super Bowl halftime show was coveted for years. But times have changed. Pop culture is no longer the monoculture it once was. For most of today's artists, the great size and range of the show's audience have an adverse impact on its benefits.
Last month, venture capital firm Andreessen Horowitz did a study on the dynamics of network effects. They highlighted social media as a sector that develops negative network effects over time. While more users fuel growth at the beginning, too many users may lower the quality of the experience. Services like Facebook and Tinder reach saturation points where some original users will engage less often than they once did. Here's a chart that shows the trend: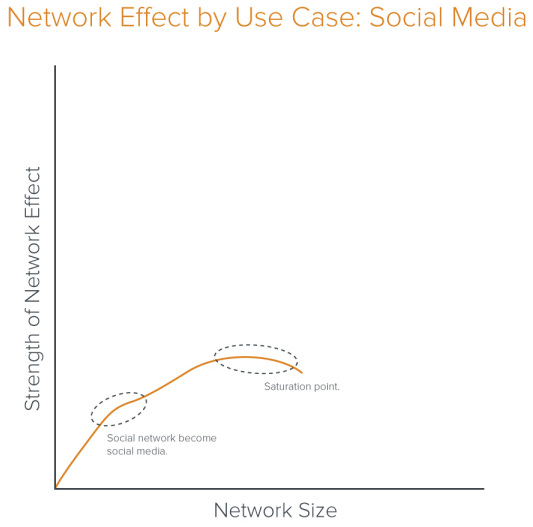 In entertainment, the Super Bowl halftime show is well past the saturation point. Artists try to please everyone with widely-accessible shows. The end result is an overly-generic performance that's a layup for critics to hate on. Even stars with more ubiquitous fandom, like Bruno Mars and Beyoncé, were still criticized after their Super Bowl performances.
Since this trend is almost a given, several media outlets have probably already drafted story outlines that read something like this: "Maroon 5 bores, Travis Scott disappoints, but hey, Big Boi still got it!"
The Oscars suffer from a similar problem. No one has replaced Kevin Hart as host because the job is near impossible to succeed at. Hosts need to cater to a wide audience from many facets of entertainment and dozens of countries. Recent hosts try to do too much, or do too little, and get a lukewarm reception either way.
Both the Super Bowl and Oscars are also challenged by declining ratings. Streaming and social media have displaced traditional viewership for both shows, but Nielsen doesn't account for that. Performers and hosts get pegged to these ratings, which may limit their future opportunities. No entertainer wants to be tied to systemic problems that are out of their control.
Super Bowl commercials are the real reward
The better way for artists, especially relatively newer ones like Travis Scott, to benefit from the Super Bowl is through commercials. Last year, songs featured in ads from Squarespace, Doritos, and Budweiser got similar streaming bumps to those that JT performed at the halftime show. These artists also get paid royalties for their TV spots. In some cases, the artists themselves star in the commercial, which is another check.
Cardi B figured it out. She's featured in a Super Bowl commercial for the second straight year:
Cardi B, Steve Carrell, and Lil' Jon in Pepsi's new commercial
The Grammy-nominated rapper will collect checks from this Pepsi commercial and an exclusive Super Bowl party in Atlanta that her and Meek Mill will perform at. Some critics have pointed out the contradiction in her starring in a Super Bowl ad that funds the event she publicly took a stand against. Either way, the backlash is slim compared to what Travis Scott has experienced.
If Travis played this out differently, he could have done the same as Cardi. Advertisers are clearly willing to put him on him. He was featured in recent commercials with Samsung and Jordan Brand. If other artists like Ludacris, Cardi, and Chance The Rapper can star in Super Bowl commercials this year, Travis would have had no problem finding one of the show's sponsor to play his songs, feature him, or both.
---
The rumor mill is convinced Travis Scott will take a knee during the show. Some think he will kneel to show solidarity with Kaepernick. Others think he will get down on one knee to propose to Kylie Jenner. Fans anticipate a big moment.
Will that be enough to offset the months of backlash for his decision, his limited discography, and the negative network effects of the halftime show? I wish ol' boy the best, but the likelihood is slim.
---
Join the music executives, business leaders, and venture capitalists who read Trapital.