Streaming services and media companies both want the next big hip-hop podcast, but creators need to be smart about which type of company to partner with.
A few weeks ago, I made a 2019 prediction for
Synchtank
 on podcasting in hip-hop:
"Next year, I expect more hip-hop artists to try and launch their own podcasts. A lot of rappers are eyeing the media presence that Joe Budden has built. His partnerships with Spotify and Revolt have proved that there's money to be made. A lot of older rappers have still got something to say, and a podcast gives them another channel to reach the masses.

NBA stars are slightly ahead of the game in podcasts. CJ McCollum, Vince Carter, and JJ Redick all have their own podcasts that release weekly. Rappers and basketball players have always had an eye on each other's moves. It's only a matter of time until more of rap's elder statesmen join the game."
The Joe Budden Podcast is riding a wave that keeps getting stronger. Last year, Spotify acquired the serialized music podcast Dissect, relaunched Microphone Check with Ali Shaheed Muhammad of A Tribe Called Quest, and several other hip-hop shows. In 2017, Tidal launched and acquired five new podcasts, including Rap Radar. The streaming company has since started newer shows like Memphis Bleek's D'Usse Party, Fat Joe's Coca Vision, and Joey BadA$$' 47 Minutes.
Media companies and podcast networks have gotten involved too. Gimlet Media and Loud Speakers Network co-produced Mogul, a podcast about the life of the late music executive Chris Lighty. Loud Speakers Network is also home to The Read, Brilliant Idiots and other shows. Genius, Complex, and Revolt have bolstered their podcast and video content as well.
Before long, rappers may have more offers for podcast deals than record deals. But artists need to evaluate these podcast deals with the same diligence they evaluate record labels, managers, and other business partners. Streaming services and media companies each bring different strengths to the table.
With all the data streaming companies have on subscriber listening habits, they can present your favorite rapper with a data-driven proposal to launch a podcast on their platforms.
---
Streaming companies have the data, but media companies have reach
Tidal and Spotify's interest in podcasts is well documented: no royalties to pay out, no record labels to deal with, and therefore, higher profit margins. Spotify's CFO Barry McCarthy confirmed this is an interview with Music Business Worldwide. "The bigger the percentage of [podcast content in our] mix, the bigger the margin opportunity to be had." According to Billboard, hip-hop accounts for 30% of all U.S. music streams, twice as high as any other genre. Spotify and Tidal naturally focus on hip-hop podcasts to keep its audience engaged on the platform.
With all the data streaming companies have on their subscriber's listening habits, they can present your favorite rapper with a data-driven proposal to launch a podcast on their platforms.
For instance, The Joe Budden Podcast is popular in Los Angeles. The New York rapper-turned-pundit has built a nationwide following, but some of his west coast fans may acquiesce to the show's east coast slant. This audience would probably enjoy a hip-hop show from someone who doesn't say "deadass" or "facts, B." Spotify has the stats to make compelling pitch decks to a shortlist of rappers who fit the bill.
The streaming companies also have big checks to make these proposals harder to turn down. Spotify signed comedian Amy Schumer to a $1 million deal for her podcast. The Joe Budden Podcast-Spotify deal amount is not public, but given Schumer's offer and the traction Budden has gained in hip-hop media, it was likely a seven-figure partnership.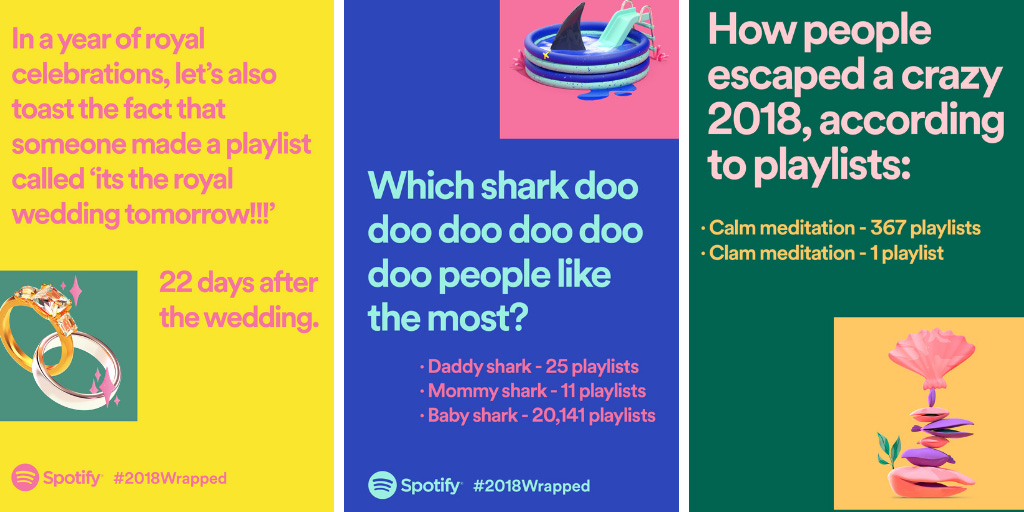 If Spotify can report on random data like this, it can easily present a prospective rapper-turned-podcaster with data-driven expectations on how well their podcast would perform in different markets (via The Drum)
While streaming companies have the data and dollars to make their competitors jealous, they are limited on distribution. Spotify and Tidal's exclusive podcasts are released on their platforms first. They use a "windowing" strategy to release content elsewhere after a few days, but the gap in availability is a challenge. Streaming services are still small players in the podcast landscape. Apple Podcasts still account for over 90% of all podcast downloads.
This is where podcast networks and media companies shine. Their content is widely available instantly on Apple Podcasts, YouTube, SoundCloud, Stitcher, and anywhere else you find podcasts. And for a semi-weekly or daily hip-hop show that follows the 24-hour news cycle, timing and availability are crucial.
Additionally, traditional podcasts networks and media companies are designed to develop talent. Their editorial heads prioritize curation to support writers, producers, and podcasters. While both Spotify and Tidal also have established editorial oversight for content, it's different. To date, the streaming companies tend to have a do-it-yourself approach to podcasts. Spotify for Podcasters is a self-guided experience, not a high-touch support model.
Media companies still fall short with their limited data. Podcast measurability and other key performance indicators are hard to come by. Sure, these companies can analyze download counts, but that pales in comparison to a streaming service's ability to run regressions on when podcast listeners skip ads, listen from start to finish, or increase to 1.5x speed (side note: anything faster than 1.5x is ridiculous. Y'all need to stop).
The barbell effect
These two lanes for potential podcasters—streaming services and media companies—are diametrically opposed strategies. It has led to a "barbell effect" in the podcast industry. Here's the definition from writer Mathew Ingram:
"If you are super small and super focused and super niche you can succeed, arguably. And if you're super huge and mass and gigantic and growing quickly, you can succeed. But in the middle, is death."
Podcast networks and media companies benefit from the huge, mass, gigantic exposure of having their content widely available on Apple Podcasts. Ironically, Spotify and Tidal are on the other side of the barbell. Despite their pursuit to become the "Netflix for Podcasts," their audience is tiny compared to Apple's. But streaming companies have the "niche" ability to target prospective listeners with precise pop-ups ads and customized homepages to lure them into a new series.
Dissect, which analyzes critically-acclaimed hip-hop albums like Shakespearean literature, is perfect for Spotify's end of the barbell. It's highly-specialized evergreen content that may not appeal to all hip-hop heads, but those that love it are devoted enough to go to Spotify once a new episode is out.
Spotify and Tidal's place on the barbell may change down the road, but both streaming companies still have a long road to travel until they can catch the distribution of Apple Podcasts.
Navigating the landscape
As the podcast environment evolves, some podcasters will need to re-evaluate their spot on the spectrum. Despite its success, The Joe Budden Podcast is technically on the wrong side of the barbell. It started as a widely-available show with a strong YouTube following and no sponsors. Spotify's acquisition has forced the passionate YouTube community to wait 48 hours to watch the newest show. By that point, the show's topics might be old news.
The misalignment between Budden's following and Spotify's exclusivity may cause issues down the road. And plus, with Budden's tumultuous track record with media companies, don't be surprised if his partnership with Spotify changes regardless. Remember, exclusive albums had a brief moment in 2016, but ultimately ended soon after Frank Ocean and Universal Music Group's disputes over the releases of Endlessand Blonde. Podcast exclusivity may experience a similar fate.
The changing landscape will bring new opportunities as well. One rapper who will likely get pitched (if he hasn't been already) is Ice Cube. The 49-year-old is one of the west coast's most polished media figures. He's narrated documentaries, produced movies, and is a regular guest on talk shows and podcasts. He also runs the BIG3 basketball league, which just announced a promising expansion.
The former N.W.A. rapper can benefit from the data Spotify or Tidal have to target users who listen to west coast hip-hop playlists and live in the region. By leveraging the streaming service's ability to find the right audience, Cube's podcast would fare better than the short-lived podcast attempts from Too $hort and Ice-T.
Another potential podcaster is Cardi B. I've written previously about how she rose to fame because of her media personality and image. Her raw, unapologetic commentary is perfect for the podcast format. Earlier this week, she shared her hilarious candid thoughts on what characters were actually seeing in the movie Bird Box. 
With Cardi's mass appeal, she would be the best fit for a media company that can develop a creative show concept that can reach the masses. Her content should be widely available on Apple Podcasts for her 39 million Instagram followers to instantly access and listen to.
---
Spotify and Tidal are doubling down on the higher margins that podcasts bring. Some rappers will chase the money, some will say no, but most will at least consider it.
As the landscape changes, there's a high chance that your favorite rapper may end up on a dud podcast. The marginal cost to produce a new series is relatively cheap for an established outlet. If either Spotify or Tidal fulfills its dream to become the Netflix for Podcasts, a low success rate is inevitable.
Unless it's a podcast about Cardi B breaking down movies that make no sense. That's the next Serial right there.

---
Join the music executives, business leaders, and venture capitalists who read Trapital.