The most powerful playlist in music would be better off as a standalone company that still collaborates with Spotify.
With 10.5 million followers, Spotify's RapCaviar playlist has quickly become one of the most influential players in hip-hop. The weekly hits catalog is a gatekeeper—granting exposure and increased play counts for the 50 songs that make the cut. RapCaviar plays the same role that Hot 97 did in the 90s. "When Hot 97 played 'Protect Ya Neck' by the Wu-Tang Clan, that was it," said Interscope executive Joie Manda in an interview with Vulture last year. "It went all over the country. RapCaviar has that influence right now. A song goes in RapCaviar and everyone pays attention."
RapCaviar has leveraged its brand to launch multi-city concert tours with Gucci Mane, Chance The Rapper, and others. It also creates exclusive video content for the playlist. These extensions are sound, but very safe bets. RapCaviar has plenty of room to grow. Several independently-run music playlists, with fewer followers than RapCaviar, have generated millions in annual revenue via advertising, record labels, and other channels.
But it's highly unlikely that Spotify would pursue these options itself. Each of the company's 4,500 in-house playlists is exclusive to the streaming service. Spotify has also denied claims that it will compete with its distributors and become a record label (even though some of its recent moves make the labels nervous). The now publicly-traded company is primarily focused on its two targets: a 30% increase in revenue and 36% increase in paid subscribers this year.
Even though RapCaviar and Spotify are dependent on each other, their priorities differ. The hip-hop playlist's core competency is human capital. Carl Chery, head of urban music at Spotify, and his team get final say to which songs make the cut. The playlist performs better the more plays it gets—regardless of whether those listeners are free or paid customers. On the other hand, Spotify is primarily a subscription-based company that relies heavily on data science to engage listeners. The company is most interested in converting free listeners into paid subscribers.
Both Spotify and RapCaviar would thrive with increased flexibility as standalone entities that partner with each other to achieve their distinct goals.
Once a playlist like RapCaviar can generate meaningful revenue on its own, Spotify should be honest about whether it's holding itself and the playlist back.
---
Independent playlists earn money through several channels
One of Spotify's top 25 most followed playlists is independently run by a company called The Nations. Trap Nation is its flagship playlist, with nearly two million followers on Spotify (FYI: the "trap" in Trap Nation refers to EDM-trap music, not TRAP trap). The company also has several sub-branded playlists in different genres, like Chill Nation, Rap Nation, and Indie Nation. Each playlist is curated and updated regularly with the latest songs. And like RapCaviar, Trap Nation has hosted a series of live concerts.
The Nations does not generate money directly from Spotify, but the additional exposure drives traffic to The Nations' massive YouTube channel. This year, The Nations should earn an estimated $5 million from YouTube ad revenue. Its collection of YouTube channels has over 37 million subscribers.
The company's founder and CEO Andre Benz has leveraged the platform he's built to create a record label, Lowly Palace. He guarantees his stable of artists a spot on his playlists—an advantage that the major labels can only ensure for its biggest artists. Benz spoke about this in July at the Midem B2B music conference:
People that own platforms and create records labels are extremely valuable… Artists want to see guarantees… With us, we're not about signing Taylor Swift, it's about the underground artist. When we sign you, it's a guarantee we get you on our playlist. It's something that has value in today's world.
The label has already been recognized by Billboard for its impact on indie dance music, signing over 200 songs to date.
Another growing, but widely debated trend with independent playlists is "playlist pitching." Artists can pay for better placement on independent playlists with large followings. Companies like Playlist Push are middlemen between artists and independent playlists. The company charges artists $150 and up for its pitching campaigns, and pays playlists up to $12 for each song they review.
Playlist Push has resurfaced an ongoing discussion with Spotify and the blurry lines between marketing and payola: the illegal practice of paying for play on the radio. But it is difficult to prove and define in today's streaming era.
RapCaviar can cash in on its strong following
Trap Nation's YouTube channel gets more engagement than RapCaviar does. YouTube comments are a community for fans to build connections. Even though RapCaviar has high-quality video content, Spotify playlists offer minimal opportunities for followers to communicate with one another. A recent study this summer highlighted that Spotify playlists have low engagement despite having millions of followers. YouTube is a great way to fix that problem with a new audience.
If The Nations can attain success by focusing on EDM, then there's plenty of opportunity for hip-hop—the most listened to genre of music in the world—to match or exceed that. According to sources from Billboard, "a typical music-curation [YouTube] channel with 10 million subscribers can generate about $125,000 a month, or $1.5 million a year, in ad revenue."
The Nations has 2.8 million followers combined on its Spotify playlists and over 37 million on its YouTube channels. With 10.5 million followers on Spotify, it's unlikely that RapCaviar would also get 13 times as many YouTube subscribers. But if RapCaviar could amass 40 million YouTube subscribers, that would yield $6 million annually from ad revenue alone.
Once "RapCaviar LLC" builds its YouTube following, it can follow The Nations path and a become a record label for up-and-coming rappers. RapCaviar can offer playlist placement as an incentive to joining their team over other labels. According to the same Billboard source, "Some top curators are now earning 30 percent of their money from offline ventures." Record labels are the most common offline venture for curators. If RapCaviar earns $6 million from ad revenue and follows that 30% trend, then it could earn nearly $3 million from its record label with the chance to earn more if the artists succeed.
The RapCaviar team would probably welcome this influx of cash. Former RapCaviar curator Tuma Basa was lured away to join YouTube and was rumored to have been offered a higher salary than the person he reported to at Spotify. That either means YouTube gave him a very generous offer, Spotify doesn't pay as well, or a combination of the two.
RapCaviar would still have to add personnel (A&R to manage its artists and social leads to manage the YouTube channels), but there would be plenty of money to go around. The question is whether Spotify is willing to set RapCaviar free to make it happen.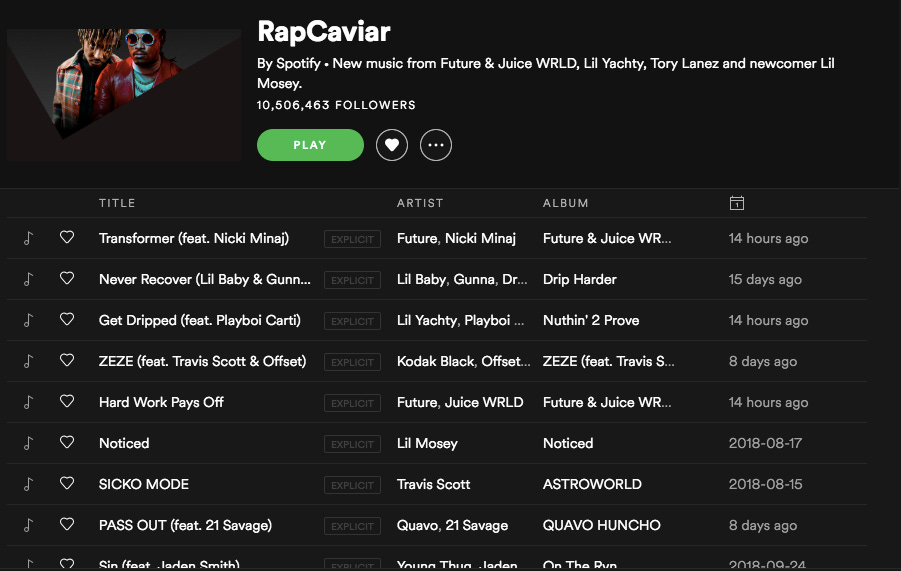 Here's what RapCaviar currently looks like. The "Lil's" aren't playing around today. (via Spotify)
The spinoff would help Spotify too
The Spotify leadership team might be wary of losing exclusive ownership of RapCaviar if the playlist gains considerable traction on YouTube. The perceived threat is understandable, but it's not as big of a risk as Spotify may think.
First, Spotify already has high switching costs with existing users because of the preferences, customization, and predictive playlists like Discover Weekly that are tailored for each listener. These cannot be carried over as easily to YouTube without starting from scratch.
Additionally, the RapCaviar extension to YouTube would indirectly help Spotify's global reach. According to Forbes, 85% of YouTube music listeners are outside the U.S., compared to about 70% of Spotify subscribers. And YouTube is still the most popular music streaming platform in the world. RapCaviar would be introduced to a newer audience, which could indirectly help raise awareness for Spotify since that's its original home. Spotify is banking heavily on international growth to meet its targets, so the efforts are aligned.
Each popular playlist like RapCaviar will need more attention as its influence and audience grow. ¡Viva Latino! is Spotify's next biggest playlist with nearly 9 million followers. It has its own distinct curators that understand Latin music and culture. And at this rate, other large Spotify-run playlists like Baila Reggaeton, Are & Be, and mint are not too far from reaching RapCaviar's current following.
Once a playlist can generate meaningful revenue, which RapCaviar has done for almost two years now, Spotify should be honest about whether it's holding itself and the playlist back. For Spotify, the longer it manages these massive playlists, the less focused the entire company is on pursuing its aggressive growth goals. Playlists are integral to Spotify's success, but at this stage, RapCaviar can be just as integral as a business partner.
---
The streaming titan might see RapCaviar as intellectual property, but that's a short-sighted perspective. The more influential RapCaviar becomes, the better for Spotify, even if that influence comes from outside of Spotify's control.
If the spinoff happens, Spotify should still promote RapCaviar as much as it does today. Many of Spotify's users have customized their experience to rely on RapCaviar, so it makes sense to maintain that. Spotify should also ensure that RapCaviar can leverage the data science and algorithms that infer the playlist selections. It will help both companies in the long run.
Like countless company spinoff stories, the two parts are greater separately than together. Let's see if Spotify takes action before another company does. Apple Music is right behind them with its own premier hip-hop playlist, The A-List: Hip-Hop. Other streaming platforms are watching as well. But its RapCaviar that's in the driver's seat.
Join the music execs and business leaders. Get next week's Trapital article in your inbox.

Trapital is written by Dan Runcie: info [at] trapital.co