The Monster Tour was successful, but it had potential to match Beyoncé and Jay Z's On The Run Tour
Rihanna and Eminem performing on the Monster Tour. (Getty Images)
This is the last part of a three-part series on hip-hop concert tours.
Part 1: How Damon Dash Brought Rap Concerts Back
Part 2: J. Cole is Still Making Millions From a $1 Concert
---
In late 2013, Paul Rosenberg, Eminem's manager, approached the Detroit rapper with an idea. Em and Rihanna just released their #1 hit single, "The Monster". The song was a follow-up to their first collaboration, "Love The Way You Lie", which also topped the Billboard Hot 100. Rosenberg felt like their success on wax could translate in concert.
After the Watch The Throne Tour in 2011, co-headlining concerts became the craze in hip-hop. Beyoncé and Jay Z's On The Run Tour, and "Drake vs. Lil' Wayne" were both planned for summer 2014. Rihanna and Eminem had performed their hit songs at award shows and made a few guest appearances at each other's concerts, but that was it.
Rosenberg's idea soon became a reality. On March 19, 2014, they announced The Monster Tour as a limited three-city tour. By March 21, due to overwhelming demand, they added one more show per city. The tour kicked off in August, grossing over $36 million in its six-show, two-week run. The Monster Tour actually outsold On The Run at both the Rose Bowl in Pasadena, CA and MetLife Stadium in East Rutherford, NJ.
At $6 million per show, only Rolling Stones and One Direction earned more in 2014. This tour could have expanded to more cities and made a lot more money. Eminem no longer does extensive tours, but they could have added a few more shows in select markets.
An extended tour would have needed more promotion to ensure packed stadiums in each city. Although The Monster Tour outperformed On The Run per show, Beyoncé and Jay Z stopped in more cities. The Carters promoted the hell out of their tour to generate demand across the country. Eminem and Rihanna could have done the same with a little more effort.
"I just love working with Eminem. He's just one of my favorite rappers, and his lyrics—he's a true poet, and I enjoy that about him."
– Rihanna, Complex, 2013
Selecting the right markets
Eminem has avoided long tours for over a decade. In the early 2000s, he was hooked on sleeping pills during the Anger Management Tours. Since his sobriety, Eminem has only done mini-tours or music festivals. The Monster Tour was Em's first U.S. concert in four years. He shared his mixed feelings about touring in a 2017 conversation with Elton John for Interview:
"It used to be hard. Early on in my career when I was more in grind mode, I was doing two or three shows a day. It was tough because you start feeling like you have no life. That being said, I do enjoy actually doing the shows." – Eminem
In contrast, Rihanna was a touring machine. Her Loud Tour and Diamonds World Tour stopped in nearly 100 cities each. Her fans grew accustomed to seeing her often. The Monster Tour, which only stopped New York, Los Angeles, and Detroit, left several regions of the Rihanna Navy unserved.
This 2017 New York Times map shows where the 30-year-old singer is most popular: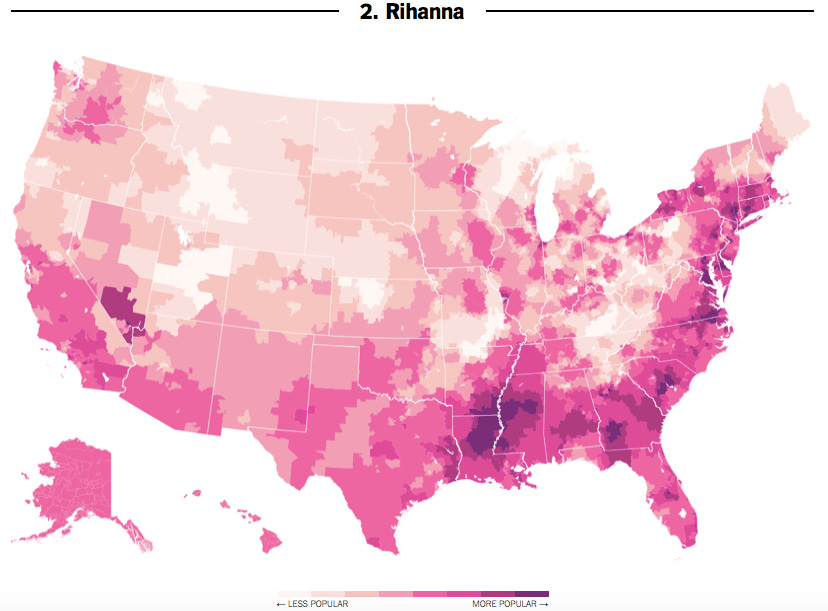 Rihanna's fans in the south got no love from the tour. New Orleans, Houston, Atlanta, and the DMV area would have came out for the concert. She has a strong following in the NY metro area and Los Angeles, but less strong in Detroit, Eminem's home city.
These maps are polar opposites. The rapper is very popular in rural, whiter parts of the country. Eminem could win a gubernatorial primary in Montana, but he does not resonate at all in the South. Pittsburgh, Cincinnati, and Phoenix are the most logical stops for him to add. Each city has enough fans to fill a stadium.
If Em and Rihanna added shows in New Orleans, Houston, Atlanta, Washington D.C., Pittsburgh, Cincinnati, and Phoenix, the tour could have stretched into September 2014 without putting Eminem into "grind mode". If those seven additional shows brought in at least $4 million each, the total gross would still have been over $64 million (from only 13 shows).
On The Run earned $109 million across 21 cities. The Beyoncé fanbase map is very similar to Rihanna's—she's extremely popular in the south. But Beyoncé and Jay stopped in all the big southern cities. Rihanna's southern Navy had to travel to NY, LA, and Detroit, or skipped the concert altogether.
"I would definitely consider Rihanna a friend. She's always been there for me, and I really enjoy working with her. As an artist, we have similar work ethics, so I've always been able to relate to her in that sense." – Eminem, Vanity Fair, 2015
Promoting the show
While the tour performed well in its short run, scarcity enhanced its success. With only three locations, diehard fans in smaller markets traveled farther to see the show. An extended tour would have diluted the exclusivity and spread those traveling fans across more cities, diminishing its $6 million, 100,000+ tickets per show numbers.
Em and Rihanna would have spent more time promoting the tour to sell tickets in additional cities. By 2014, more artists created digital content to share on social media to announce big events, such as album releases, concerts, and sponsorship deals. The Monster Tour did not have a strong social media strategy. Rihanna inconveniently took a hiatus from Instagram before the concert and did not come back until after the tour ended. Eminem posted a few photos leading up to the concert, which Rihanna retweeted, but nothing more.
Despite the tour's limited promotion, the actual concert started off on with an interesting video to kick off the show:
Eminem and Rihanna – The Monster Tour Intro
This Silence of the Lambs-inspired clip captured the attitude and boldness that unite the artists. In the video, Rihanna humors cautious advice from the guy who played Chris Moltisanti in The Sopranos. Once she meets Eminem, they bicker like two siblings—fully aware of each other's pet peeves, but have each other's backs to help them through challenges.
When the clip ended, the concert began. Rihanna entered first and started signing "Numb". Midway through the song, Eminem made his grand entrance on a stretcher and joined her on stage. The sequence was intriguing, but the remaining show was business as usual after that. The Hannibal Lecter theme did not carry through, which was a lost opportunity.
In contrast, the On The Run Tour shined in promoting its themes. Roc Nation released a star-studded faux motion picture trailer months before the tour. Sean Penn, Jake Gyllenhaal, Don Cheadle, Emily Rossum, Rashida Jones, and Blake Lively all made appearances. During each show, Beyoncé and Jay played several similarly-themed montages between each artist's set. While most music videos and movie trailers cost a few hundred thousand dollars to create, the "Run" movie trailer easily cost around $1-1.5 million, if not more. That's more than most other artists would spend, but it's a drop in the bucket for a show that earned $109 million.
It might seem unfair to pit The Monster Tour against hip-hop's royal family, but Em and Rihanna are powerful stars with deep pockets. The Monster Tour's low-budget video with Chris Moltisanti cost no more than $100,000 to make. Instead, Em and Rihanna should have hired Rich Lee, who did a great job directing "The Monster" music video. Lee could have reintroduced the music video's six themes: violence, family, insanity, death, fame, and addiction. Those themes captured Eminem struggles, but Rihanna has opened up in recent interviews about facing similar challenges. And Hannibal Lecter, a fictional serial killer who dealt with childhood trauma—is still a fitting archetype to dramatize these themes.
There are several interwoven storylines that fit this backdrop. Lee would have had a field day bringing this narrative to life. The extra footage from the promo video could have been edited and used for a concert intro video and transitions between RiRi and Em's sets. The opportunity was there.
---
On The Run II is coming this summer. Jay Z and Beyoncé are bringing back their Bonnie & Clyde gig in more cities and in bigger stadiums. Industry experts are expecting the tour to gross $180 – $200 million.
Eminem and Rihanna haven't collaborated on a song since "The Monster", but they've both released solo albums since. It might be time for them to hop back in the studio, release a couple songs, then do a quick 12-14 city tour. Their fans, especially the Rihanna Navy, deserve a chance to see the tour that could have been.
---
Join the music executives, business leaders, and venture capitalists who read Trapital.